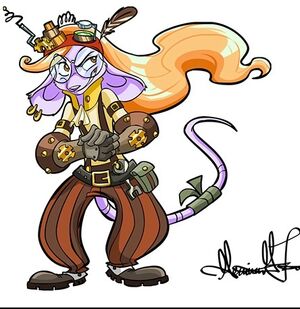 The Steampunk Skin is an unlockable alternate skin for Penelope in Sly Cooper: Age of Thieves. Five collected Secret Penelope Masks are enough to unlock this skin.
Description
"This steampunk outfit was once considered for Penelope back when she was working for Le Paradox back in the Cooper Gang's past adventure. Just looking at Penelope when she looks like this makes it clear to everyone around her that she's not in touch with reality anymore..."
Ad blocker interference detected!
Wikia is a free-to-use site that makes money from advertising. We have a modified experience for viewers using ad blockers

Wikia is not accessible if you've made further modifications. Remove the custom ad blocker rule(s) and the page will load as expected.