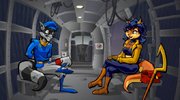 Sly, was doing his nonsence again. Carmelita chased him all over their house.
"GET BACK HERE"! She shouted. "No way"! This lasagnia looks way to good to pass up! Sly dug his hands into the lasagnia. Bentley grabbed his sleep dart gun and shot sly. BOOM. He hit the floor asleep. " Hurry! Get the lasagnia"! Murry grabbed it and set it back in its spot. "Dont worry he'll wake up soon" Bentley said. " I wasn't the one worrying." Carmelita said. " Hey maybe we could make another time machine and stop him from doing that!!" Penolope cried. " I would'nt like that," Sly said. " Haha, I wasnt asleep, just figured you could use some, er less stress"?
"We could use some less stress is that eve a sentance"? Asked Carmelita.
" Could be" said guru, in his awkward language.
                                                 I WILL POST THE NEXT CHAPTER AFTER AWHILE

       P.S THEYR ALL GETTING TOGETHER AND PLAYING NICE BECAUSE, ITS SLY'S  BIRTHDAY.

Ad blocker interference detected!
Wikia is a free-to-use site that makes money from advertising. We have a modified experience for viewers using ad blockers

Wikia is not accessible if you've made further modifications. Remove the custom ad blocker rule(s) and the page will load as expected.