" Come back here for some harpooning!!"
— Sharks when following you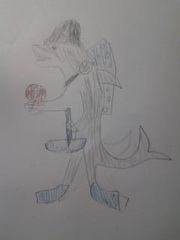 The Menacing Sharks are Vostok's personal flashlight guards, they are enemy guards that are found in the Artic level in the game Sly Cooper 5: Thieves Be Forever.
Appearance
These burly sharks are the great white kind and are colored like real ones, gray and white and have black eyes without an iris. They wear blue diver flippers on their feet to walk and a black pirate hat with a fish skull & crossbones logo. On their backs, they wear Vostok's "Gill Air 2.0" (a black & white jetpack-like device that is worn on their backs with tubes containing water that ends on a circular water container on the gill) they carry a brown divers helmet with a flashlight inside and a blue harpoon shooter. They communicate by talking English or grunting, growling since sharks don't make sounds.
Attacks
When close, they bite horizontally with their huge teeth or swing their helmets downwards. When far, they shoot their harpoons at you with deadly accuracy. Like flashlight guards, they attack you once you hit them more than 2 times.
Trivia
Like Vostok's other guards, these guys jump out of the water if thrown there no matter how far.
In a cutscene from TBF, one of these guards is talking with Vostok and is known to have the name Jaws, the name of the movie and killer shark too.
In concept art, these guards were going to be walruses.
Ad blocker interference detected!
Wikia is a free-to-use site that makes money from advertising. We have a modified experience for viewers using ad blockers

Wikia is not accessible if you've made further modifications. Remove the custom ad blocker rule(s) and the page will load as expected.