Florida, Islands of Adventure is the fourth level in the DLC pack "Honor Among Thieves" for Thieves Back in Action. The boss here is
General Turji
the Turkey.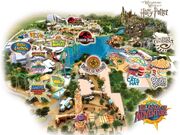 Environment
Water
Various rides
Booths
Restaurants
Shops
Different Landscapes

Jurassic Park
Marvel Island
Toon Lagoon
Hogsmeade
Seuss land
The Lost Continent

Snowy houses
Dinosaur animatronics (outfitted with spotlights)
Ropes
Pipes
Rocky Structures
Forest
Comic Cartons
Clue Bottles
Secret Sly masks
Safehouse
Islands of Adventure is one of the largest maps in the series, good for environment. The place has various rides that are in motion (still running) all over the park. Booths, restaurants and shops adorn the park. Also, different landscapes apply to the different areas of the park: Jurassic Park is kinda of a jungle, Marvel Island is an comic book hero town, Toon Lagoon is a cartoon area with lots of water, Hogsmeade is a snowy village, Seuss Land is another cartoonlike area, The Lost Continent is an ancient-like area. Ropes, pipes adorn the area for Sly to climb on.
Guards
Music
The music for the place is like a more ominous theme like the Medieval England hub music mixed with The Amazing Cooperoni music, it also has various Chinese vibes to it. The fight music turns into a remix of Tsao's Temple Grounds~fight.
Pickpocket Treasures
500~Hand-Carved Wand
300~Spider Webbing
100~Autograph
Trivia
The level as mentioned before, is the largest one in the series.
According to Sanzaru, this level was based on their visit to the real Islands of Adventure.
Ad blocker interference detected!
Wikia is a free-to-use site that makes money from advertising. We have a modified experience for viewers using ad blockers

Wikia is not accessible if you've made further modifications. Remove the custom ad blocker rule(s) and the page will load as expected.