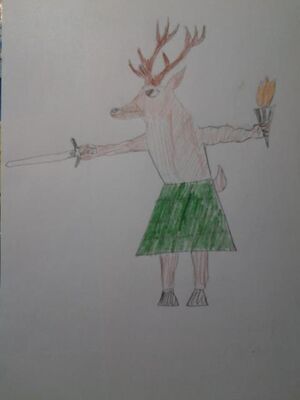 Diabolical Deer are flashlight guards that appear in the episode Braverobber in Sly Cooper: Age of Thieves.
Physical description
The Diabolical Deer are anthropomorphic Red Deer bucks that wear green kilts. They have hazel eyes and appear to be very well built. They have stylized claymores and torches in their hands.
Abilities
The Diabolical Deer wield mighty claymores with one arm for physical attacks and hold torches in the other, which fires sparks that harm members of the Cooper Gang.
Ad blocker interference detected!
Wikia is a free-to-use site that makes money from advertising. We have a modified experience for viewers using ad blockers

Wikia is not accessible if you've made further modifications. Remove the custom ad blocker rule(s) and the page will load as expected.